Meet Our Team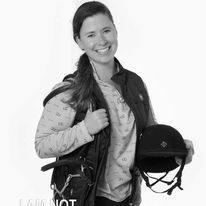 Calie
So ya'll, Calie is incredible. She is THE mind behind Brassy. Her hoard accidentally launched us into who we are today! In fact, she can be blamed for us being kicked out of several tack rooms/garages as the hoard continued to grow! Calie is the brains behind the operation, our professional photographer, and inventory manager/buyer. Basically, she handles the hard stuff while Cadie talks to people.

Her knowledge of bitting is unmatched. If you have bit questions, she'll rattle your ear off about all the things you didn't know you needed to know! She is paticullaly passionate about custom bits. Preserving that trade within the equestrian community has really become a focus for her. Sometimes, she buys bits just to touch them. We only judge her a little bit for that!

Calie has been riding since three years old. She's tried a little of everything and can currently be found fancy prancing on one of her homebred ponies, Nova. She also loves chestnut and white overo paints (she has a proper collection), hoping to develop a few to hit the show pen in the coming years.

Calie proudly serviced in the Natl Guard for 12 years and continues to serve the veteran population in her professional life. She has dedicated her life to public service. We will forever be in awe of her. She's so incredible that she was a nominee for 2018 woman of the year – yup, she's that damn cool. Calie and Cadie are twins. Don't worry about messing them up, they answer to both names! Calie's husband Thomas can often be found heavy things/rescuing the girls. Calie buys all the things.

Hoards: Corgis, Roper halters, CA lead ropes and HS eggbutt Bits
---
Cadie
As you've gotten to know Brassy, you have gotten to know Cadie. She knows an insane amount of random stuff about saddles and could rattle off about them for hours if you let her. She is often the face you see when coming to the store, or when we come for fittings. Customer service is a passion, though she is crazy busy and would lose her mind if not for this incredible team!

Cadie is pursuing her education in saddle fitting via SMS. However, we think saddle fitting is just an excuse to snuggle everyone's barn cats and ponies.

Cadie has been riding since she was three years old and has tried everything from showmanship to dressage. Horses have been a passion and apart of her life almost every day since. She is currently piloting a homebred "pony", is Mom to an OTTB/Unicorn, and entirely obsessed with her giant floofy doggo who can often be found at the shop.

Cadie has spent a few years now working with Cliff Langarud to learn about making and repairing saddles so that she can live her dreams instead of being a wage slave for Corporate America. In 2019, CL Custom Saddles was launched as the opportunity arose to purchase Cliff's saddle making business. Cliff hates retirement, so he can be found at the shop at least a couple days a week. Cadie and Calie are twin sisters. If you get them confused, don't you worry…they answer to each other's names! Cadie sells all the things.

Hoards: leather, saddle making stuff, County Saddles, and unread text messages.
---
Mikala
We are so proud to introduce Mikala Wodarek as our COOE (chief officer of everything) and associate saddle fitter. Mikala calls Grand Forks, ND home for now, but is moving to Fargo, ND in the Spring/Summer of 2022. She has been riding for over 20 years, a Brassy client since 2015, and a Brassy team member since the beginning of 2020.
Mikala has experience in multiple rings, all of which led her to her current passion – dressage. She is a self proclaimed jumper gone dressager and is enjoying climbing the levels with her horse, Trudy (and will gladly rattle your ear off about it anytime). She joins us as a fellow biomechanics nerd.
You can often find Mikala managing Cadie and Calie (which is a full time job), posting & chatting on our Facebook page, creating type-A schedules for fitting trips, drinking all the Starbucks, taking all the photos, and booping all the snoots. If you need to schedule a travel fitting – she's your gal!
Mikala brings some incredible strengths to our team: English tack fit for horse and rider, rider mechanics in the saddle, and is always keeping up with the latest tack and equipment trends. She uses her past experiences in several disciplines to bring a well rounded perspective when working with our customers and their horses. When not doing Brassy stuff, she is a wife to Joe (her equally as horse crazy husband), dog mom to Ruger, and Trudy's momma.
Hoards : County Saddles, Back on Track/Benefab items, and accessories for her horse, Trudy.
---
Bekah
We are beyond thrilled to bring this an incredible woman and friend onto our team! Bekah Wallace is joining us as an associate saddle fitter. She is based out of Frazee, MN and will be offering support to our Western riders in Mid/Western Minnesota! Bekah has been riding for 21 years, has been a Brassy client since 2017, and a Brassy team member since the beginning of 2021!

Bekah grew up on a dairy farm and is no stranger to working her butt off! She spent years in both FFA & 4H. She is passionate about sharing this incredible journey with the next generation of riders. While in those organizations, she competed in western pleasure, games, training program, and judged horses.

Today, she can be found correctly starting horses and developing barrel horses with soundness and correctness in mind. We are also peer pressuring her into trying Dressage. The jury is still out on that one! While not riding, she an be found raising an incredible tiny human and growing her own business, Silver Leaf Equine.

Bekah also shares a love for off the track thoroughbreds. Cadie, Mikala, and Bekah all own OTTB's. Calie begrudgingly feeds one of Cadie's & one of Mikala's, so I guess we all are into OTTB's! Bekah's heart is in retraining OTTB's. She has a couple incredible bay mares, one of whom she competed as a professional in the Thoroughbred Makeover Challenge held Retired Racehorse Project in the summer of 2021. Aftercare and development of these spectacular animals is the driving force behind her passion and knowledge! Bekah is also a certified equine sports massage therapist & Magnawave certified. We are excited to harness that knowledge and apply it to finding correctly fitting tack for all!

Hoards: Bits, so many bits. Bay OTTB mares, braided reins, and Double J saddles
---
Nicole
We are THRILLED to be adding an exciting new layer to Brassy's ever growing team!  Nicole is a local artist offering custom equestrian art/design! Can you imagine the possibilities!?
Nicole Wallace grew up on a dairy farm near Detroit Lakes, MN and was the 'wannabe' horse owner but was blessed with a barn full of cows instead. What little girl doesn't want a pony?! To get her fix as a kid she filled sketchbooks of horses [and even tried convincing the elementary yearbook committee to put her horsey drawings on the front cover instead of the school mascot]. She says she is getting to live her best second life with the most amazing group of inspiring and horse crazy ladies!
Nicole has a deep-rooted passion in agriculture, its history, conservation, and the relationships it fosters. She has a degree in Agricultural Engineering with a minor in Natural Resource Management. While she has never taken a formal art class, the Big Guy upstairs blessed her with an eye and passion for art, so it's time to make use of it!

Her love of art, ag, and steam is rivaled by her love for her best doggo, Quinn.
Nicole is launching Croft Design Co, where you can purchase one of a kind, hand painted farm and ranch décor. She has mastered bringing farm/ag heritage to a modern style. Nicole is co-founder of Ladies of Steam and has inspired women globally through that platform. Be sure to say hi as you'll see her in Rollag, MN at the Steam Thrashers Reunion, sharing her passion for the next generations!
Hoards:  Overalls, antiques, other peoples "trash" that's most certainly treasure, and old country music.